Cape Ann Museum Green
The Cape Ann Museum Green, the Museum's new campus off Grant Circle and Route 128 in Gloucester, is designed to dramatically expand the Museum's community, contemporary art, and educational offerings. The almost four-acre campus is home to three historic structures: the White Ellery House (1710), an adjacent Barn (c. 1740), and the Babson-Alling House (c.1740), all located on the site at the intersection of Washington and Poplar Streets in Gloucester.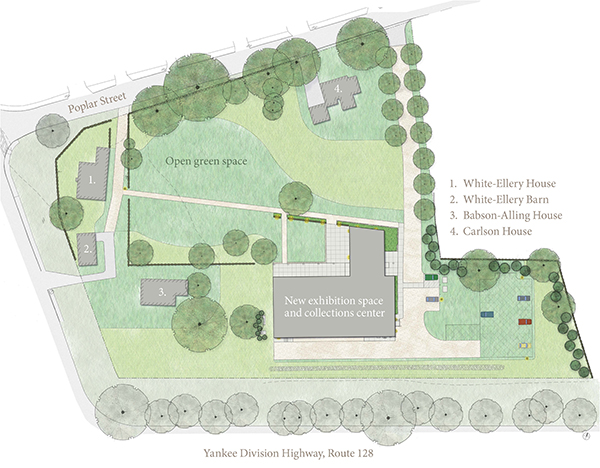 The new 12,000-square foot Janet & William Ellery James Center, completed in 2020, includes 2,000 square feet of flexible exhibition and community programming space designed to reach broader audiences with new exhibits and public programs. The James Center addresses the Museum's critical need for expanded collections and archival storage. Built to LEED Platinum standards, the James Center was designed by Boston-based designLAB and integral to the building's environmental footprint is the installation of a 173KW Solar 2 Array system on the building's roof.
Ample green space has been reserved at the site and will include sitting walls, lawns, and a pathway linking all buildings. New indigenous plantings have been made and an outdoor sculpture park is also envisaged.
The completion of the James Center and creation of the Cape Ann Museum Green is a critical component of the Museum's 2018–2023 Strategic Plan and its commitment to enhance the Museum's facilities by providing room for future collections and archival growth in the lead up to the Museum's 150th anniversary in 2025 and beyond.
Cape Ann Museum Green opens on August 14th for a special exhibition Learning to Swim. The exhibition will be held at the The James Center and will remain on display through September 12th.
Please review CAM safety protocols for visiting during Covid. Advance tickets are recommended.

In accordance with current CDC and city of Gloucester public health guidance, masks are required for all staff and visitors while inside the Museum.


Participants must wear a mask or face-covering at all times while inside the Museum.
Please respect and maintain a distance of six feet or more between unrelated groups.

If you or anyone in your group feels unwell or has symptoms of COVID-19, please visit the Museum another day.
Please check back or join our email list to stay informed on plans for 2021!
---
Related press releases:
→ Museum pays tribute to local pandemic victims with COVID-19 Memorial (02/18/2021)
→ New banners installed on the James Center at CAM Green (11/02/2020)
→ CAM Green campus taking shape (09/03/2020)