Student Art Exhibits
March 2018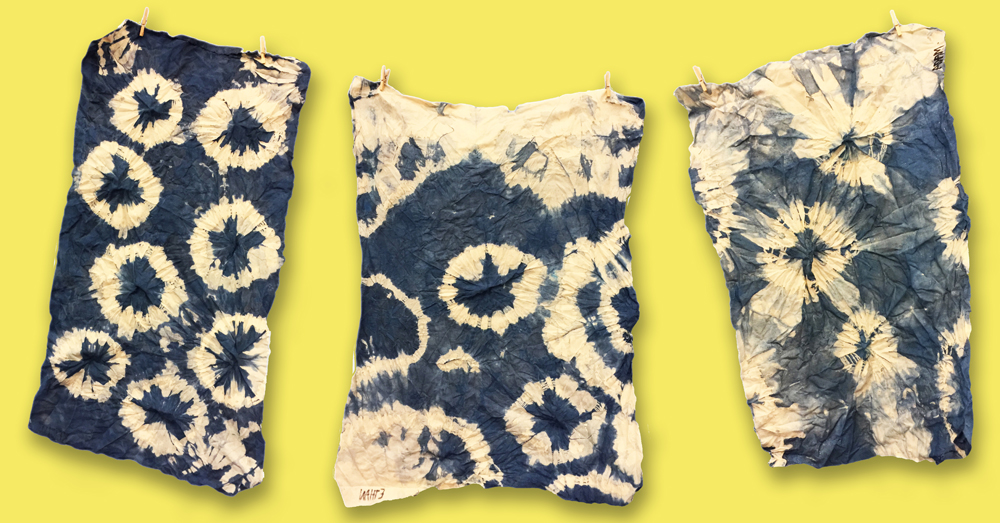 YMCA Teens Practice Shibori at Cape Ann Museum
Inspired by the batik and fabric art of Gloucester artist Judith Goetemann and by the many expressions of blue in the Cape Ann Museum's collection, YMCA teens spent the afternoon with Kirsten Vega, Education Coordinator at CAM, learning shibori, an ancient method of dying cloth with indigo popularized in Japan but rooted in all places where indigo is grown, including India, Indonesia, Japan, China, Egypt, Africa, and South America. European trade prized indigo. The unique characteristics of each dyed piece make it an expressive medium. This is one part of a growing relationship between Cape Ann Museum and YMCA Teen Leaders, a remarkable group of self-governed youth who use their free time to volunteer and make an impact in our community.
---
Miles River Middle School, Hamilton Wenham

Grade 6 – Contour Line Backpacks
Contour line drawing is drawing an object as though the drawing tool is moving along all the edges and ridges of a form or object. Sixth grader's used contour line to draw their backpacks. Students then used the technique called crayon-resist to complete their work. Crayon-resist requires the artist to outline the work using a crayon or oil pastel in combination with watercolor paint.

Grade 7 – Cityscapes
Seventh graders created cityscape drawings using one-point perspective. This method requires establishing a vanishing point on the horizon line and a ruler to create the illusion of threedimensional space. Students were asked to choose a time of year, time of day and include sidewalks, windows, signage and to design a public space. Drawings were finished using colored pencil.
Grade 8 – Collage
Eighth grade students created collages that represented one of seven Principles of Design: balance, emphasis, contrast, pattern, unity, rhythm and movement. The Principles of Design were established as rules for creating strong designs and compositions when making art. Each student then wrote about their chosen design principle and how they demonstrated it on the back of their artwort.

Grade 8 – Pottery
Eighth grade students used hand-building techniques to create clay containers in art class. The project consisted of pressing and rolling clay slabs, printing texture and designs into the wet clay, scoring and using slip to create a cylinder and once again scoring and using slip to attach a base to the clay cylinder. Students used lo-fire pottery glaze to finish their clay pieces.
---
Landmark Elementary Middle School, Beverly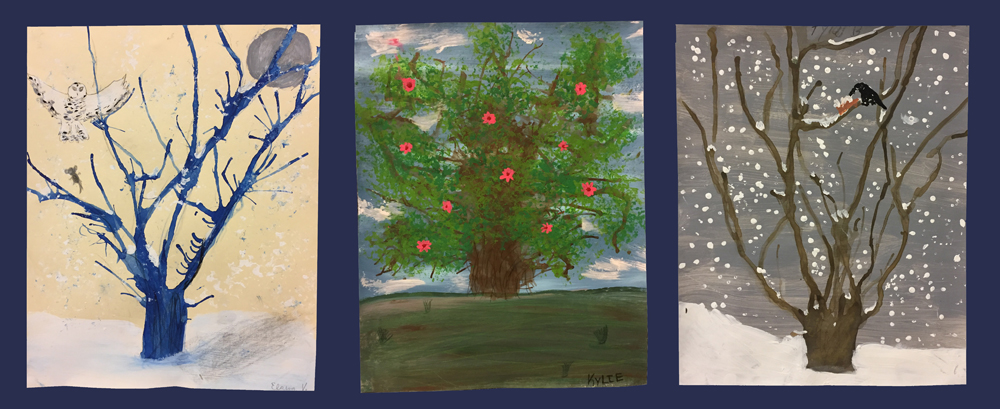 Mixed media tree paintings
Gravestone scratch board drawings