Our Souls Are by Nature Equal to Yours: The Legacy of Judith Sargent Murray
Sept. 28, 2019 — March 31, 2020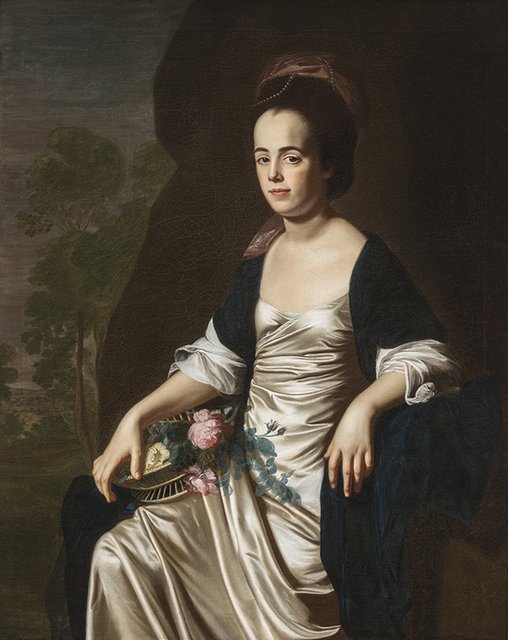 Judith Sargent Murray was an advocate for women's rights at a time when few women were making public their desire for equality; over time she has become an icon for the city of Gloucester and an important figure in the history of women in Colonial America. To advance scholarship and contribute to the celebration of the 100th anniversary of the founding of the Sargent House Museum, the Terra Foundation for American Art, the Cape Ann Museum and the Sargent House Museum have partnered to organize a special exhibition and educational programming focused on the life and legacy of Judith Sargent Murray (1751–1820). The central component of this special exhibition will be John Singleton Copley's three quarter length oil on canvas portrait of Murray, generously on loan to the Cape Ann Museum from the Terra Foundation for American Art.
The portrait will remain on display at the Cape Ann Museum through March 31, 2020 and will be accompanied by examples of Murray's letter books on loan from the Mississippi State Archives, correspondence between her and President George Washington on loan from the Library of Congress, and examples of Murray's published works including her book, The Gleaner, published in 1798.
The exhibition will be augmented by educational and outreach programming that will delve deeper into Judith Sargent Murray's life and accomplishments and allow visitors to draw parallels between Murray's ideas and current day efforts to "level the playing field" in terms of equality between the sexes. Lectures will be presented focusing on Murray; on other 18th century American women writers and philosophers; on the art of John Singleton Copley; and on women's roles in the American Revolution and the early Republic. Among the presenters will be Sheila L. Skemp, a professor of History at the University of Mississippi and author of First Lady of Letters: Judith Sargent Murray and the Struggle for Female Independence.
An unveiling of the portrait will be held on Saturday, September 28 in the Cape Ann Gallery on the Museum's main level. Find details here.
Image credit: John Singleton Copley, American, 1738–1815. Portrait of Mrs. John Stevens (Judith Sargent, later Mrs. John Murray), 1770–72. Oil on canvas (50 x 40 in. unframed). Terra Foundation for American Art, Daniel J. Terra Art Acquisition Endowment Fund. Photography ©Terra Foundation for American Art, Chicago.