Our Souls Are by Nature Equal to Yours: The Legacy of Judith Sargent Murray
Sept. 28, 2019 — May 2, 2021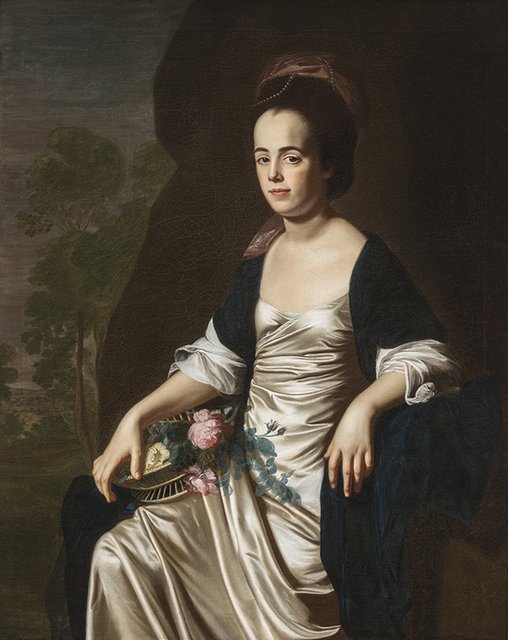 The Museum is currently open to the public Thursday through Sunday, 10am to 3pm.
Judith Sargent Murray was an advocate for women's rights at a time when few women were making public their desire for equality; over time she has become an icon for the city of Gloucester and an important figure in the history of women in Colonial America. To advance scholarship and contribute to the celebration of the 100th anniversary of the founding of the Sargent House Museum, the Terra Foundation for American Art, the Cape Ann Museum and the Sargent House Museum have partnered to organize a special exhibition and educational programming focused on the life and legacy of Judith Sargent Murray (1751–1820). The central component of this special exhibition is John Singleton Copley's three quarter length oil on canvas portrait of Murray, generously on loan to the Cape Ann Museum from the Terra Foundation for American Art.
The portrait will be on display at the Museum through May 2021.
Earlier this year, several lectures and discussions were held focusing on Judith Sargent Murray. Programming was made possible with support of Mass. Humanities' The Vote initiative. Some of those programs can be viewed here:
Exhibition Related Programs
Judith Sargent Murray: A Complicated Woman
Saturday, January 25, 3:00 p.m.
Presented by Sheila Skemp
A Conversation with Copley
Saturday, February 8, 11:30 a.m.
Presented by Daud Alzayer
Promises and Limits of the New Republic
Saturday, February 29, 1:00 p.m.
Presented by Joanne Pope Melish, Kabria Baumgartner, Bethany Jay and Lise Breen
Redefining Women: The Impact of the Revolution on Gender Ideology
Saturday, March 7, 1:00 p.m.
Presented by Carol Berkin and Elizabeth Matelski
This exhibition was made possible through a partnership with the Terra Foundation and the Sargent House Museum. Additional funding was received from Mass Humanities, which is supported by the Massachusetts Cultural Council and is an affiliate of the National Endowment for the Humanities.
Image credit: John Singleton Copley, American, 1738–1815. Portrait of Mrs. John Stevens (Judith Sargent, later Mrs. John Murray), 1770–72. Oil on canvas (50 x 40 in. unframed). Terra Foundation for American Art, Daniel J. Terra Art Acquisition Endowment Fund. Photography ©Terra Foundation for American Art, Chicago.