Winslow Homer Harbor Cruise
Sunday, August 25
6:00 p.m.
A sunset adventure aboard the Schooner "Thomas E. Lannon"
All aboard for an evening sunset harbor cruise! In celebration of the special exhibition Homer at the Beach: A Marine Painter's Journey, 1869 – 1880, the Museum has partnered with the Schooner "Thomas E. Lannon" to illuminate Winslow Homer's time in Gloucester. The program includes a two-hour sail, light refreshments (wine, beer & snacks), a chance to watercolor paint and tales of Homer's time in Gloucester. Cost is $60 for CAM members; $75 nonmembers. Advanced registration required. Please reserve online at Eventbrite or call (978) 283-0455 x10 for additional information.

Homer at the Beach, on view through December 1, 2019, is the first close examination of the formation of Winslow Homer (1836–1910) as a marine painter. The Cape Ann Museum will be its sole venue.
In 1869, Winslow Homer exhibited his first picture of the sea. He was an ambitious New York illustrator—not yet recognized as an artist—and freshly back from France. Over the next 11 years, Homer's journey would take him to a variety of marine destinations, from New Jersey to Maine, but especially—and repeatedly—to Gloucester and other parts of Cape Ann. It was on Cape Ann that Homer made his first watercolors and where he discovered his calling: to be a marine artist. And it was in Gloucester in 1880, at the end of these 11 years, where he enjoyed the most productive season of his life, composing more than 100 watercolors of astonishing beauty. Homer's journey forever changed his life and the art of his country.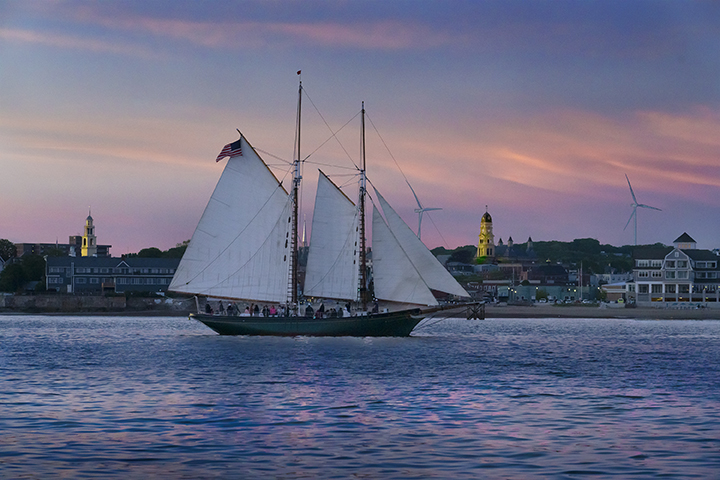 The Schooner "Thomas E. Lannon" was built in 1997 in Essex, MA. Berthed at historic Seven Seas Wharf at the Gloucester House Restaurant, Rogers Street, Gloucester, the Lannon offers two-hour sails and private charters from mid-May through mid-October. The "Thomas E. Lannon" is named for owner Tom Ellis' maternal grandfather, who fished out of Gloucester from 1901-1943. On August 25 join the Cape Ann Museum and the Ellis family for a sail and imagine what it was like to sail on a fishing schooner out of Gloucester a hundred years ago.
Image credits: Winslow Homer (1836–1910), Sunset Fires, 1880. Watercolor on paper. The Westmoreland Museum of American Art, Greensburg, Pennsylvania. Gift of the William A. Coulter Fund, 1964.36. Steve Rosenthal, The Schooner "Thomas E. Lannon" in the Harbor. Archival pigment print. Cape Ann Museum. Gift of the photographer, 2019.