Middle Street Walk 2018
Saturday, December 8
10:00 a.m. — 5:00 p.m. Community Programs Youth and Family Programs
Join us for the 31st annual Middle Street Walk! Be enchanted by historic Middle Street in the winter season. Performances, crafting, contests, trolley tours and more! Details at middlestreetwalk.org.
The Museum is free and open to the public all day!
Schedule of Events at the Museum
10:00 a.m. to 5:00 p.m.
Create Victorian Era Christmas ornaments in the CAM Activity Center.
10:30 a.m. t0 11:30 a.m.
CAM Kids: Victorian Christmas Traditions with "Victoria Yule" in Auditorium (details below).
12:00 p.m. to 4:00 p.m.
The Captain Elias Davis House is open and available for viewing. Come visit the historic house decorated for the season!
3:00 p.m. to 4:00 p.m.
Gloucester High School's jazz band, The Docksiders, performs in Museum Auditorium.
---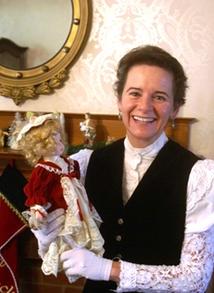 Victorian Christmas Traditions
Travel back in time to Christmas 1895 with an entertaining performance by "Victoria Yule", who welcomes us into her parlor and shares her plans for the 1895 Christmas season. Learn the history of many Christmas traditions, passed down to her from "Grandmama and Grandpapa". She'll read Dickens, display toys and handmade gifts that her family will be exchanging around the Christmas tree, and in her clear soprano, sing songs of the season. Truly an audience favorite! No registration required.
Victoria Yule (a.k.a. Anne Barrett) was named Storyteller of the Year by the North of Boston Convention and Visitors Bureau and has been creating and presenting ground-breaking historical presentations on the North Shore for over 10 years. Find out more.