Cape Ann Museum Green
New Campus Opens to the public Thursday, September 17, 2020
Hours are Thursday through Sunday, 10am to 3pm. The campus is free and open to the public; timed tickets are required at this time. For reservations and COVID protocol, please sign up on Eventbrite.
→ Read the full press release here
The main campus at 27 Pleasant Street opens to the public on Thursday, October 1. CAM members are invited to visit the week prior from Thursday, September 24 through Sunday, September 27. Details and timed tickets can be found here.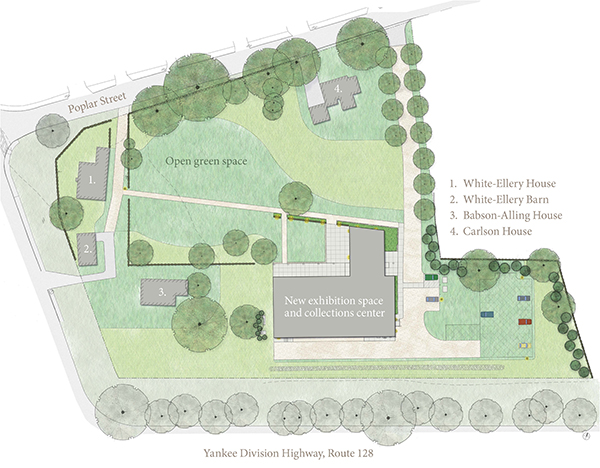 In recent years, the Cape Ann Museum has developed a plan for the Cape Ann Museum Green campus to address the Museum's needs for expanded collections storage and exhibition and community programming space.
Driven by the necessity to accommodate the growth of the Museum's art and archival collections and to find a space in close proximity to Cape Ann, leaders of the Museum turned to approximately three acres of property that has been owned by the Museum for many years at the intersection of Washington and Poplar Streets. Presently at this site three historic buildings, the White-Ellery House (1710), an adjacent Barn (c.1740) and the recently acquired Babson-Alling House (c.1740) create an important gateway to Gloucester.
Additional facilities at the site include the 12,000 square foot state-of-the art Janet & William Ellery James Center, which addresses the Museum's critical need for expanded collections and archival storage. The James Center also includes a 2,500 square foot flexible exhibition and community programming space that greatly enhances the Museum's ability to reach new audiences. The building is designed to complement the three historic structures on the site, while open green space that is accessible for public enjoyment year-round connects all buildings on the property.
The new building, designed by Boston based firm designLAB, provides the Museum with new ways to engage, excite and connect with audiences. Ample green space has been reserved at the site and will include sitting walls, lawns and a pathway linking all buildings. New indigenous plantings have been made and an outdoor sculpture park is also envisaged.
Construction of the new facility is nearing completion and an official opening celebration is anticipated in June 2021. The project is a critical component of the Museum's 2018–2023 Strategic Plan and commitment to enhance the Museum's facilities by providing room for future collections and archival growth in the lead up to the Museum's 150th anniversary in 2023 and beyond.